After a short summary of ISFP career interests, you'll find 20 potential career fits for ISFPs, along with several poor fits, identified by combining data about ISFP personality patterns with detailed occupational information from the U.S. Bureau of Labor Statistics.
Table of Contents
ISFP Career Interests
The chart below shows where ISFPs tend to fall on the classic RIASEC career interest dimensions: Realistic, Investigative, Artistic, Social, Enterprising, and Conventional.
Your unique blend of these dimensions dramatically influences how well a career feels like a good fit.
The dark blue areas show where ISFPs are most likely to fall on each dimension.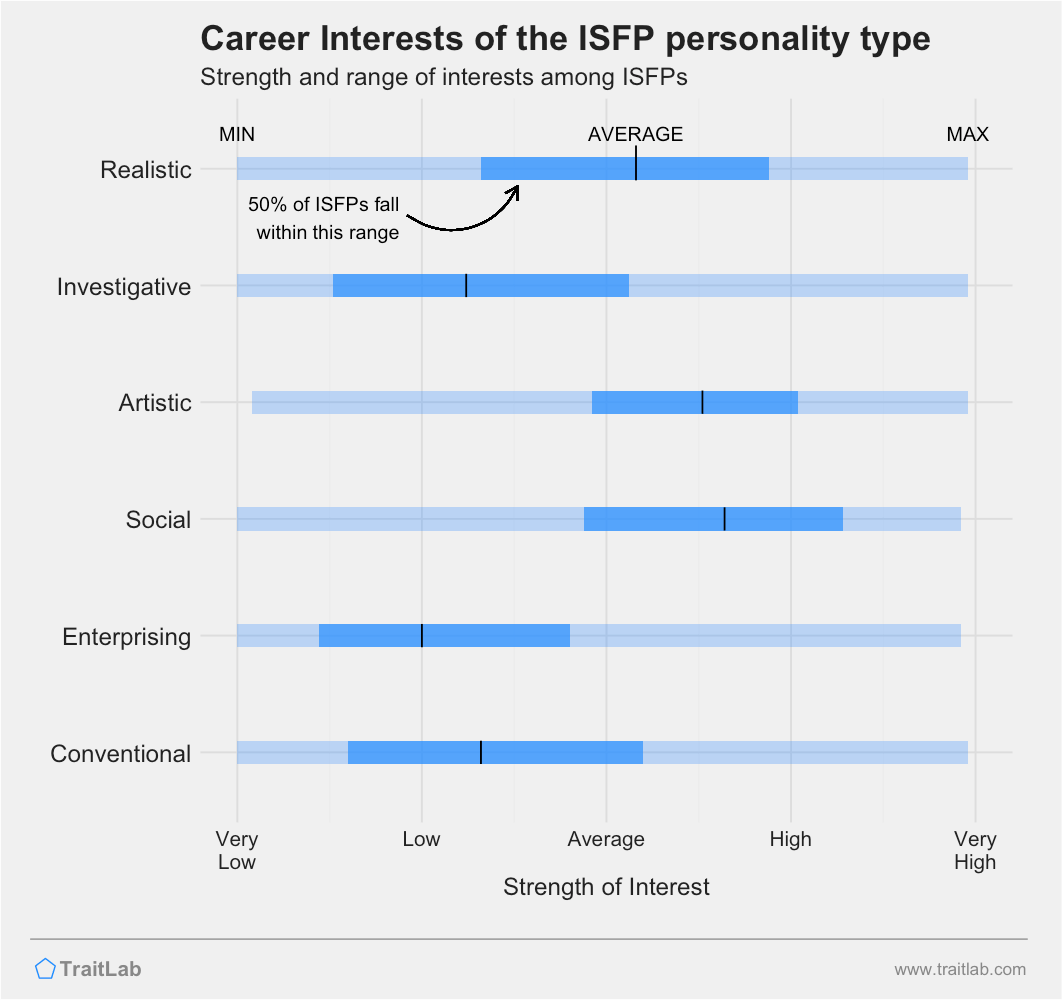 Most ISFPs tend to have the following pattern of interests:
High Social interests: People with strong Social interests fit well with careers that involve helping, comforting, caring for, and teaching other people. Examples include physical therapists, counselors, clergy, social workers, doctors, and nurses.

High Artistic interests: People with strong Artistic interests prefer jobs that require innovation through artistic and intuitive skills in less structured tasks and environments. Examples include artists, novelists, actors or actresses, musicians, curators, and designers.

Average Realistic interests: People with high Realistic interests enjoy careers that allow them to work with their hands or tools to get a job done, rather than thinking or talking about it. They may also gravitate towards jobs with opportunities for working outdoors, competition, and risk-taking. Examples include police officers, military officers, professional athletes, farmers, builders, mechanics, forest rangers, and woodworkers.

Average Investigative interests: People with strong Investigative interests prefer roles that require observation, researching, and understanding ideas. They tend to prefer working with data and ideas rather than working closely with other people. Examples include medical researchers, chemists, software engineers, scientific reporters, and statisticians.

Average Conventional interests: People with strong Conventional interests excel in roles that require categorizing, planning, and systematizing information and processes. Examples include financial officers, budget analysts, office managers, database analysts, and systems administrators.

Low Enterprising interests: People with strong Enterprising interests are often skilled communicators and enjoy influencing, persuading, and leading other people. They actively pursue leadership roles and opportunities to bolster their status and reputation. Examples include sales and marketing directors, politicians and political organizers, and executives.
However, it's possible to find ISFPs at any point on any of these six dimensions. While most ISFPs have relatively low Enterprising interests, there are still a few ISFPs who score very highly on them. This is one of the limitations to using MBTI personality types for career matching. Alternatively, you can find a more precise assessment of your unique combination of personality traits, strengths, career interests, and more here at TraitLab.
Most ISFPs have intense Social interests, which fit well with roles requiring skillful communication and empathy.
Many ISFPs also have strong Artistic interests, meaning they will gravitate towards roles with opportunities to create, innovate, and experiment.
Some ISFPs have relatively higher Realistic interests, pulling them towards roles that involve working with their hands, tools, or machinery.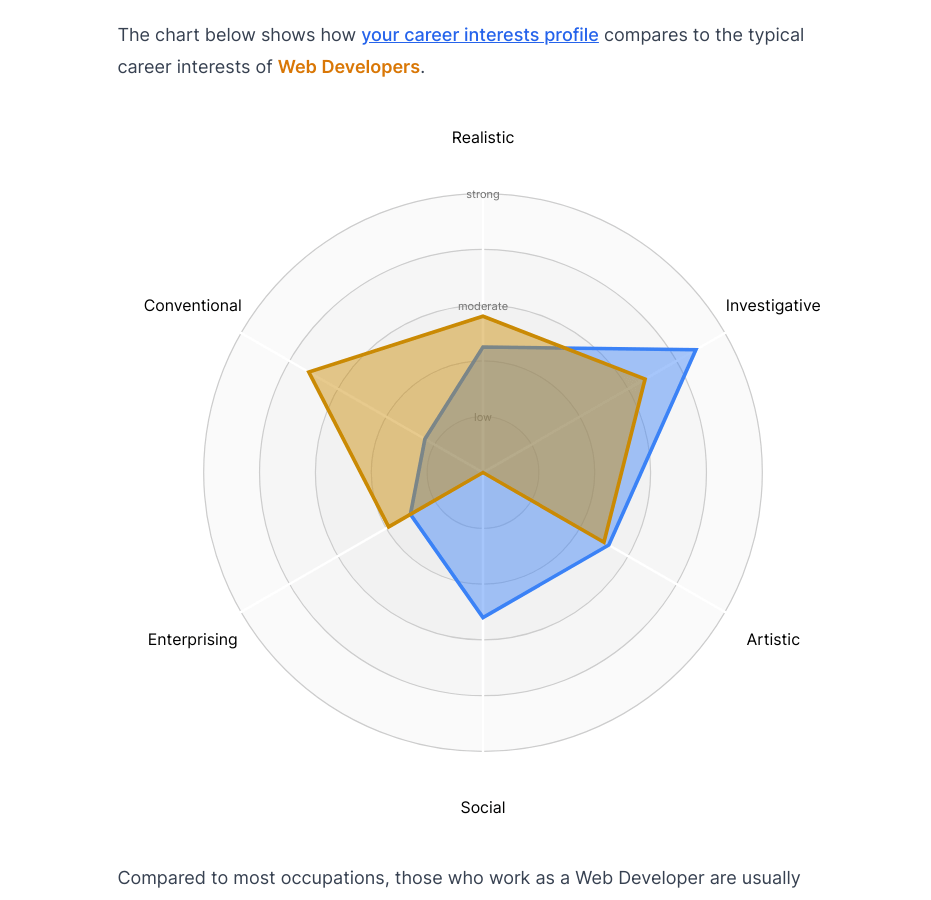 Get started for free
Compare your unique personality profile against hundreds of career paths.
ISFP Career Matches
People who work in the following 20 occupations tend to have similar interests to most ISFPs:
Also known as Certified Personal Chef (CPC), Personal Chef, Private Chef
Private Chefs prepare meals in private homes. They also includes personal chefs.
Typical pay range: $27,860 - $98,980 (annual)
Learn more about Private Chefs ->
Also known as Ballet Director, Choreographer, Dance Director, Dance Maker, Musical Choreographer
Choreographers create new dance routines. In addition, Choreographers
rehearse performance of routines, and
may direct and stage presentations.
Typical pay range: $21,180 - $101,250 (annual)
Learn more about Choreographers ->
Also known as Adjunct Professor; Assistant Professor; Associate Professor; Health and Human Performance Professor; Health and Physical Education Professor (HPE Professor); Health, Physical Education, and Recreation Professor (HPER Professor); Instructor; Kinesiology Professor; Physical Education Professor (PE Professor); Professor
Physical Education Professors teach courses pertaining to recreation, leisure, and fitness studies, including exercise physiology and facilities management. They also includes both teachers primarily engaged in teaching and those who do a combination of teaching and research.
Typical pay range: $33,140 - $130,580 (annual)
Learn more about Physical Education Professors ->
Also known as English Teacher, Language Arts Teacher, Mathematics Teacher (Math Teacher), Middle School Teacher, Music Teacher, Physical Education Teacher (PE Teacher), Reading Teacher, Science Teacher, Social Studies Teacher, Teacher
Middle School Teachers teach one or more subjects to students at the middle, intermediate, or junior high school level.
Typical pay range: $40,930 - $98,840 (annual)
Learn more about Middle School Teachers ->
Also known as Caregiver, Child Care Worker, Child Caregiver, Childcare Provider, Childcare Worker, Daycare Teacher, Daycare Worker, Infant Teacher, Toddler Teacher
Childcare Providers attend to children at schools, businesses, private households, and childcare institutions. They also perform a variety of tasks, such as dressing, feeding, bathing, and overseeing play.
Typical pay range: $18,380 - $37,720 (annual)
Learn more about Childcare Providers ->
Also known as Mental Health Aide (MHA), Mental Health Worker (MHW), Psychiatric Aide, Psychiatric Nursing Aide, Psychiatric Nursing Assistant, Resident Care Technician, Therapeutic Program Worker (TPW)
Psychiatric Aides assist mentally impaired or emotionally disturbed patients, working under direction of nursing and medical staff. In addition, Psychiatric Aides
may assist with daily living activities, lead patients in educational and recreational activities, or accompany patients to and from examinations and treatments,
may restrain violent patients, and
includes psychiatric orderlies.
Typical pay range: $21,840 - $48,880 (annual)
Learn more about Psychiatric Aides ->
Also known as Agricultural Education Teacher, Allied Health Teacher, Business Education Teacher, Cosmetology Teacher, Drafting Instructor, Family and Consumer Sciences Teacher (FACS Teacher), Instructor, Teacher, Technology Education Teacher, Vocational Teacher
Technical Education High School Teachers teach occupational, vocational, career, or technical subjects to students at the secondary school level.
Typical pay range: $43,410 - $96,020 (annual)
Learn more about Technical Education High School Teachers ->
Also known as Bariatric Weight Loss Counselor, Certified Exercise Physiologist (EPC), Clinical Exercise Physiologist, Clinical Exercise Specialist, Exercise Physiologist, Exercise Scientist, Exercise Specialist, Lifestyle and Weight Management Consultant
Exercise Physiologists assess, plan, or implement fitness programs that include exercise or physical activities such as those designed to improve cardiorespiratory function, body composition, muscular strength, muscular endurance, or flexibility.
Typical pay range: $36,070 - $78,170 (annual)
Learn more about Exercise Physiologists ->
Also known as Bodywork Therapist, Certified Massage Therapist (CMT), Clinical Massage Therapist, Integrated Deep Tissue Massage Therapist, Licensed Massage Practitioner (LMP), Licensed Massage Therapist, Massage Therapist, Medical Massage Therapist, Registered Massage Therapist, Therapeutic Massage Technician
Massage Therapists perform therapeutic massages of soft tissues and joints. They also may assist in the assessment of range of motion and muscle strength, or propose client therapy plans.
Typical pay range: $22,580 - $79,150 (annual)
Learn more about Massage Therapists ->
Also known as Camera Operator, Cameraman, Master Control Operator (MCO), News Videographer, Production Technician, Studio Camera Operator, Television News Photographer, Videographer
Videographers operate television, video, or film camera to record images or scenes for television, video, or film productions.
Typical pay range: $29,140 - $123,220 (annual)
Learn more about Videographers ->
Also known as Beautician, Cosmetologist, Hair Dresser, Hair Stylist, Hairdresser, Hairstylist, Manager Stylist, Master Cosmetologist, Stylist
Hairstylists provide beauty services, such as cutting, coloring, and styling hair, and massaging and treating scalp. They also may shampoo hair, apply makeup, dress wigs, remove hair, and provide nail and skincare services.
Typical pay range: $18,840 - $53,410 (annual)
Learn more about Hairstylists ->
Also known as Activities Assistant, Activities Director, Activity Aide, Activity Assistant, Activity Coordinator, Activity Director, Recreation Assistant, Recreation Coordinator, Recreation Supervisor
Recreation Workers conduct recreation activities with groups in public, private, or volunteer agencies or recreation facilities. They also organize and promote activities, such as arts and crafts, sports, games, music, dramatics, social recreation, camping, and hobbies, taking into account the needs and interests of individual members.
Typical pay range: $19,510 - $46,510 (annual)
Learn more about Recreation Workers ->
Also known as Assistive Technology Trainer, Early Intervention Occupational Therapist, Industrial Rehabilitation Consultant, Occupational Therapist (OT), Pediatric Occupational Therapist, Registered Occupational Therapist, Staff Occupational Therapist, Staff Therapist
Occupational Therapists assess, plan, and organize rehabilitative programs that help build or restore vocational, homemaking, and daily living skills, as well as general independence, to persons with disabilities or developmental delays. They also use therapeutic techniques, adapt the individual's environment, teach skills, and modify specific tasks that present barriers to the individual.
Typical pay range: $57,330 - $122,670 (annual)
Learn more about Occupational Therapists ->
Also known as Adult Basic Education Instructor (ABE Instructor), Adult Basic Education Teacher (ABE Teacher), Adult Education Instructor, Adult Education Teacher, ESL Instructor (English as a Second Language Instructor), ESL Teacher (English as a Second Language Teacher), ESOL Teacher (English for Speakers of Other Languages Teacher), GED Instructor (General Educational Development Instructor), GED Teacher (General Educational Development Teacher), Teacher
Adult Education Instructors teach or instruct out-of-school youths and adults in basic education, literacy, or English as a Second Language classes, or in classes for earning a high school equivalency credential.
Typical pay range: $32,120 - $95,630 (annual)
Learn more about Adult Education Instructors ->
Also known as Aerobics Instructor, Fitness Coordinator, Fitness Instructor, Fitness Specialist, Fitness Trainer, Group Exercise Instructor, Group Fitness Instructor, Personal Trainer, Yoga Instructor
Exercise Trainers instruct or coach groups or individuals in exercise activities for the primary purpose of personal fitness. In addition, Exercise Trainers
demonstrate techniques and form, observe participants, and explain to them corrective measures necessary to improve their skills, and
develop and implement individualized approaches to exercise.
Typical pay range: $21,640 - $76,550 (annual)
Learn more about Exercise Trainers ->
Also known as Activity Coordinator, Certified Therapeutic Recreation Specialist (CTRS), General Activities Therapist, Recreation Therapist, Recreational Therapist, Rehabilitation Therapist, Therapeutic Recreation Specialist
Recreational Therapists plan, direct, or coordinate medically-approved recreation programs for patients in hospitals, nursing homes, or other institutions. In addition, Recreational Therapists
activities include sports, trips, dramatics, social activities, and crafts, and
may assess a patient condition and recommend appropriate recreational activity.
Typical pay range: $31,450 - $79,250 (annual)
Learn more about Recreational Therapists ->
Also known as Certified Orthotist (CO), Certified Pedorthist, Certified Prosthetist (CP), Certified Prosthetist and Orthotist (CPO), Certified Prosthetist Orthotist (CPO), Licensed Prosthetist and Orthotist (LPO), Orthotic Practitioner, Orthotist, Prosthetic Practitioner, Prosthetist
Prosthetists design, measure, fit, and adapt orthopedic braces, appliances or prostheses, such as limbs or facial parts for patients with disabling conditions.
Typical pay range: $41,790 - $110,130 (annual)
Learn more about Prosthetists ->
Also known as Court Interpreter, Deaf Interpreter, Educational Interpreter, Interpreter, Medical Interpreter, Paraprofessional Interpreter, Sign Language Interpreter, Spanish Interpreter, Technical Translator, Translator
Interpreters interpret oral or sign language, or translate written text from one language into another.
Typical pay range: $29,740 - $96,480 (annual)
Learn more about Interpreters ->
Also known as Art Teacher, English Teacher, High School Science Teacher, History Teacher, Mathematics Instructor (Math Instructor), Science Teacher, Secondary Teacher, Social Studies Teacher, Spanish Teacher, Teacher
High School Teachers teach one or more subjects to students at the secondary school level.
Typical pay range: $41,330 - $102,130 (annual)
Learn more about High School Teachers ->
Also known as Caregiver, Certified Home Health Aide (CHHA), Certified Medical Aide (CMA), Certified Nurses Aide (CNA), Home Attendant, Home Care Aide, Home Health Aide (HHA), Home Health Provider, Hospice/Home Health Aide, In Home Caregiver
Home Care Aides monitor the health status of an individual with disabilities or illness, and address their health-related needs, such as changing bandages, dressing wounds, or administering medication. In addition, Home Care Aides
work is performed under the direction of offsite or intermittent onsite licensed nursing staff,
provide assistance with routine healthcare tasks or activities of daily living, such as feeding, bathing, toileting, or ambulation, and
may also help with tasks such as preparing meals, doing light housekeeping, and doing laundry depending on the patient's abilities.
Typical pay range: $20,130 - $36,990 (annual)
Learn more about Home Care Aides ->
ISFP Careers to Avoid
Most ISFPs would struggle to enjoy careers that consistently demand strong Enterprising and Conventional interests. These careers would involve high levels of management, leadership, organization, and attention to detail.
A few examples include:
Related ISFP Articles